1 Makati Metro Manila Condos by New San Jose Builders For Sale.
For price list, model house, floor plans, payment terms, chat live with an agent 24x7.
1 Featured Properties Found
Dela Rosa St.

,

Makati

,

Metro Manila
0 Additional Properties Found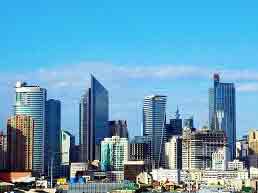 Makati
If there's a city that can be called the "heart" of Metro Manila, it would be Makati. Situated at the center of the region, Makati is bounded by Pasig River to the north, Manila on the northwest, Pasay City on the southwest and south, and Pateros to the east.
Even though it's a "center" in more ways than one, Makati is surprisingly small. Making up only 4.3 percent of Metro Manila's total land area, the city is made up of 33 barangays divided into two legislative districts.
Makati is Very Accessible…and that's an understatement. If you're coming from NAIA 3, for example, you can drive to the city via the NAIA Expressway Phase 1. You can also get to Makati via bus, jeepney, train, MRT and your private vehicle.
Looking for a condo for sale or house and lot for sale in Makati? We've got plenty of places to call home. Find property for sale including houses for sale, condominiums for sale, townhomes for sale as well as house and lot for sale. Learn about the house buying process. Work out what you can afford before you start looking at real estate properties in Makati.

Research Pre Selling , Ready For Occupancy (RFO) or Rent To Own Properties. Buy House and Lot for sale, Condominiums for sale, Townhomes for sale and other homes for sale that would meet your budget and needs. With several active real estate project listings in San Lorenzo, Salcedo Village, Rockwell, Legaspi Village, San Antonio, Bel Air, it's easy.
As you know, Makati is the financial center of the Philippines. Naturally, that status lends it a certain attraction to top companies, almost 40 percent of which are headquartered in the city. You can find most of them in the Central Business District, though some are hosted by the likes of Rockwell Center in Barangay Poblacion.
Around a third of Makati's land area is residential. This is followed by commercial and mixed use areas, which make up 14.83 and 14.60 percent, respectively. The rest are divvied up between riverside development areas, government centers, recreational spaces, institutions, etc.
Exploring Philippines property for sale? We have the most comprehensive real estate listings. We have real estate properties for sale throughout the Philippines, giving you the Philippines's largest selection of condos and house and lot to buy. Choose from thousands of houses for sale and apartments for sale in the Philippines. Search property to buy and find your next home. Updated Listings and prices of cheap, affordable, luxury and quality homes for you and your family. With PH Real Estate, owning a home is fast and easy.

Makati is clearly the most progressive city in the country today - this area has a different vibe of its own. It stirs up a lot of activities in culture, arts, dining, entertainment, business, tourism, retail and finance, among others.

Are you looking somewhere in Makati for a brand-new condominium unit or maybe, lease one? We have a number of residential properties – most are ready for occupancy while some are in pre selling stage. Still, other units are for resale and lease at different costs, depending on their features and amenities. Are you looking for an affordable, cheap, quality home? We can look one for you – a perfect home that meets all your criteria and wish lists.

For those who wish to have an office space right at the center of Makati – we can also find one for you. Or maybe you want a house and lot of your own or a townhouse perhaps – we can help find one, too. Whatever you prefer for a home or an office, we can give you the information you need like the floor plans, price lists and customer reviews that will help you decide. For instance, if you are a single, young professional – do you want a studio or 1-Bedroom unit? Or if you are newly married and expecting to build a family of your own - how many bedrooms do you prefer? A 2-Bedroom unit or more? If you have a family of 4- will the 3-Bedroom unit suffice for you and love ones? Whatever your choice is – expect to find the best in our listings as you go through searching for that elusive property.

Perhaps, you're an expat, OFW or maybe a local migrant looking for a furnished apartment or condo in Makati, too? We can find the perfect dwelling for you. We have our own search tools where you can filter the lists by the type of property, price, number of beds and listing types. As you check – you will find one that's a perfect fit. If you have questions or concerns – our licensed & top-rated real estate agents will be able to help you out. These professionals will certainly show you their expertise, skills and experiences for you to make that big decision of a lifetime.

What's more: we have a website that's complete with information. Other than this, we have our sales support agents who can chat with you live 24 x 7. Instead of browsing through hundreds of similar properties – you can easily find the dream home you are looking for just by checking our website or chatting with us. Isn't that what you need most at this time? Convenience is the key. We are ready to help you anytime. It would certainly take much less of your money, effort and time.

On the other hand, if you plan to sell your home or maybe have your townhouse or condo leased out, you can also get in touch with us. Our listing agents can help you get the best price. Isn't that wonderful? We can also share with you some data about home buying and selling trends in the city to further assist you. This will give you the competitive edge vs. other sellers or lessors out there in the field.

True to its name, PH Realty is redefining real estate and home buying processes in the country with its digital technology, full-time agents, and lower fees that provide better values for both buyers and sellers alike. With this group taking over what you need, you can be assured that every detail will be taken cared of. Isn't that what we want to achieve with our goals – less risks and wise choices?
?As an aside, you can always work your home choice according to your own budget before you even start looking for the right properties. With our skilled agents – they will match whatever your budget is with the available homes in Makati that you can afford. You need not zero-out all your savings or hard-earned money just to acquire or rent a new home. Let PH REALTY do the work for you – be it a Makati house and lot, an apartment, a condominium in Makati or a townhouse unit, a flat or a duplex. Maybe it is just a simple, basic abode, or a semi-furnished residential unit or even a luxurious, modern and elegant dwelling --- whatever it is that you require, we will assist you.

Are you in search for flats for sale in Makati – consider our expertise to help you find a good one appropriate to what your needs are - we have more than 10,000 new and resale condo units for sale in this city. We can get you to the most in-demand properties where location is nearest all the comforts and conveniences of modern living. Currently, we have active listings on Makati's most upscale areas like Bel-Air, San Lorenzo and Rockwell to those within the CBD, like Legaspi Village and Salcedo Village.

PH REALTY helps you find the newest real estate listings that you may need. At present, there are about a thousand for sale listings in Makati that include condos, bank owned homes, short sales, townhomes, duplexes, land and luxury listings. For those who want to rent in this city – we also have our exhaustive list of the luxurious apartments, condos and townhomes. If you just need a studio, 1 Bedroom unit only or more than 1 bedroom – it doesn't matter. We have a system that filters what categories you want like per size, number of bedrooms and price so you can take a look at each one carefully.

At PH REALTY – we assist you with the home buying, home selling and home leasing processes. All our services are personalized and we offer complimentary site trippings and showroom visits. We can also present the house or unit models for viewing to the prospective customers. If you have a property in Makati that you want to sell or lease out --- just get in touch with us and we can do everything for you. Just trust and believe that we know the processes well and can easily sell or rent it off the market. With many years of experience coupled with recognitions and accolades from different prestigious award-giving bodies, we know what we are talking about.

So, look no further because at PH REALTY - owning, leasing or re-selling a home is fast, easy and hassle free. What more can you ask for?

Tags : list of condo in makati, cheapest condo in makati for sale, makati condo for sale by owner, makati condo for sale ready for occupancy, pre-selling condo for sale in makati, condominium in makati for sale, best condo in makati, affordable condo in makati, rush condo for sale in makati, 2nd hand condo for sale, used condo for sale in makati, 3br condo for sale makati, foreclosed condo makati, list of condo in makati
Makati Metro Manila Condos Price List
Property Name
Price (₱)
Developer Name